So last weekend Martin came over and we went up to the Salem NH mall because I thought I would find a dress for the Love Cabaret. Instead we just shopped around, I spent a significant amount of time petting puppies in the pet store, and got dinner at Burger King at the food court. Not too exciting you would say. Well, I wouldn't, because we ended up going into a Weathervane, which apparently as an entire chain is going out of business, so everything was like 75% off. As a result, I found this fantastic coat, regularly marked $250 dollars, marked down to, get this--25 BUCKS!!!!! I KNOW!! Of course I had to get it, and its just fabulous--woven wool--so nice and warm, a satin-finish polyester lining, and removable fur trim, so it can be worn like a regular trench. Check it out: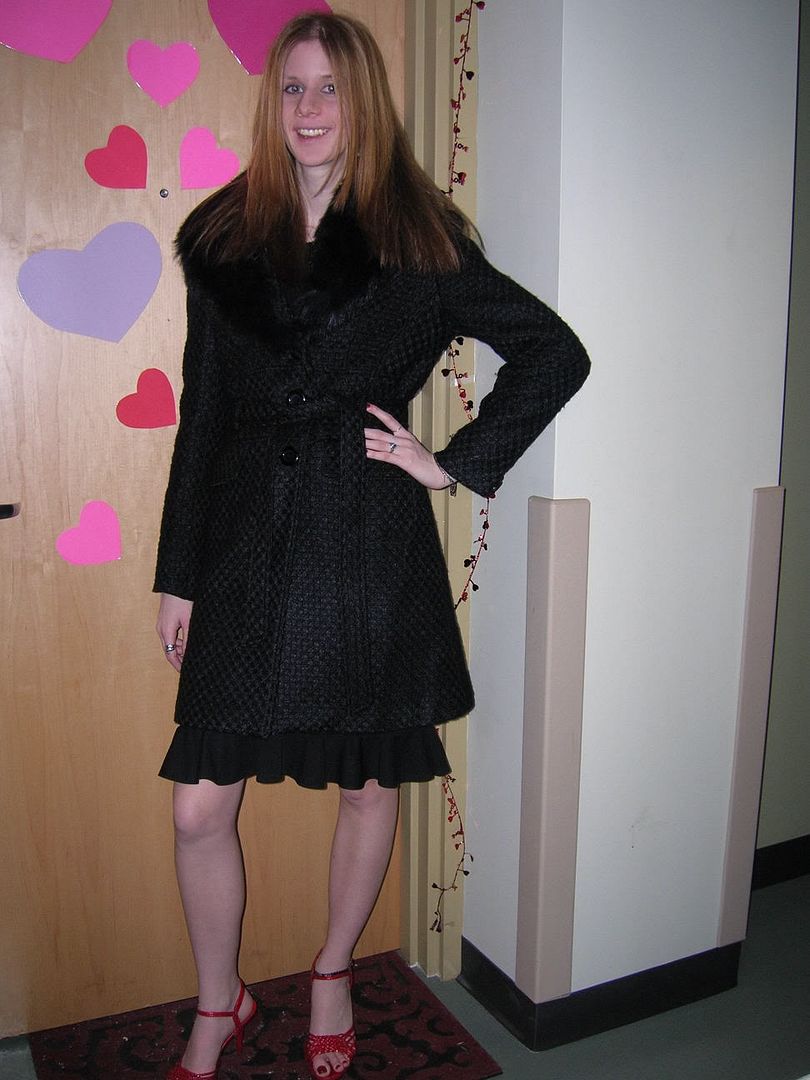 So instead of a dress (or even a puppy) I walked out with what is now my favorite new coat, and a box of dark chocolate Godiva truffles to boot (Martin's treat).




This week was the Love Cabaret, a dance held annually in order to raise money for a scholarship fund. Martin and I had attended last year, and because of various things occupying our time this year, we both decided that we would like to go again, but didn't spend too much time thinking about it. As I said before, I didn't get a dress, instead I just put together something nice from things I have in my closet--one being a blouse that I had never worn before, that had a really pretty black lace see through back, which you can't see in any of the pics. I paired it with a black skirt and cherry red shoes (in honor of the love theme). Martin totally faked me out about what he wore. I told him ahead of time that I was going to wear red and black, and that he could just wear his black shirt, black tie, and black pants, unless he wanted to get a red tie to match. He said he would go shopping, but didn't tell me when he did. Before he came on Friday, he said that he couldn't find his black tie and that his black pants didn't fit anymore so he had to wear grey ones. Whatever, as long as you are in clothes. When he arrived (a half hour late, although that was fine as I was late getting ready myself) I ran to the front desk when they called me to sign him in, and turned the corner and gasped as he stood up to greet me. Like the dashing handsome devil that he is, he was in shiny red shirt, black silk tie, black pants and jacket, and the white scarf my mom got for him last Christmas, holding a bouquet of roses. He kissed me and handed them to me, along with a bag of dark chocolate Lindt truffles, as I lead him back to the suite so I could put my flowers in water, and then be off to the dance.

We got there shortly before the food started to be served, and we sat at a table with Danielle and Dave, albeit across from them. We had our pictures taken by the photographer, and then got up to get some food--soul food featuring fried chicken, mashed potatoes, and the like. As I went down the line getting served, a man who works in admissions (whose name I forget) looks at me and goes "Do you ever watch America's Next Top Model?" I said yes, all the time, its my favorite. He goes "You look like Shandi! You need to go try out for that!" I laughed and said thank you, that I have been told that before. Martin and I sat down and enjoyed our food--especially since I found that they had coca cola! We snuck off to check my mail for a bit and then returned and danced for a bit, before both of us, being tired, decided to go back to the dorm.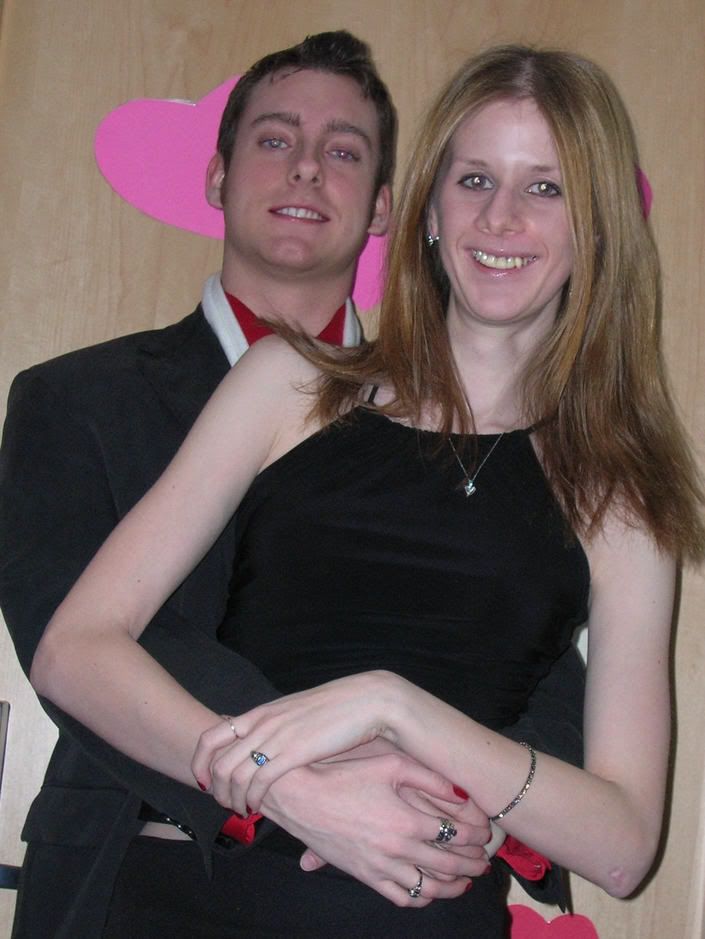 More Love Cabaret photos...

http://emmanuel.facebook.com/album.php?aid=2002357&l=6e5d5&id=45301501


The info session I had signed up to work for admissions was cancelled, and we went to bed at a reasonable hour so that we had time to get up for brunch and then make Andi's and my appointment to look at apartments at 2. The apartment was very short, and we walked the Fens back, watching the ducks and geese, and then stopping for lottery tickets (Andi's idea). The rest of the day was filled with little random non-important things but it was sooooooo nice to be able to spend a substantial period of time with Martin where we both weren't stressed out about something going on in our lives. We help each other relax and just slip very easily into this place where there is a lot of smiling and joking and playful teasing and cuddling and lots of fun stuff that just really is about enjoying each other's company. Out of anything I've realized recently, is that even though he is only a year and a half older than me, he is really so much of an adult that I never have to worry about immature problems or situations with him. He takes such good care of me, and I am so grateful for that, because I know what he needs from me is to just be a support, and it makes me so happy to know that what he needs he finds in me.